I've been looking for the perfect curry recipe and I think I found it. Delish!!!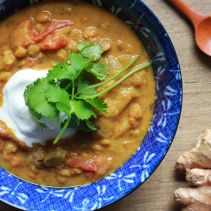 If you've soaked your lentils, start with 4 cups of water instead of 6 and add more as the soup cooks, as needed. Cut down the first cooking time to 20-25 minutes, then follow the recipe again from there.
Ingredients
1/4 cup Hearty Naturals Organic Virgin Coconut Oil
1 large red or yellow onion, diced
2 celery stalks, halved lengthwise and thinly sliced
4 cloves garlic, minced
One ½-inch piece fresh ginger, minced
Kosher or sea salt
2 tablespoons fresh curry powder
½ teaspoon cumin
1 cup brown or green lentils, rinsed
One 14-ounce can diced or crushed tomatoes
6 cups water
1 cup coconut milk (not low fat)
Juice of 1 lime
Plain yogurt for garnish
Cilantro leaves for garnish
Over medium heat, warm the oil in the bottom of a Dutch oven or other heavy pot with a lid. Add the onion and celery, and cook until soft, about 5 minutes. Add the garlic and ginger and cook another 2 to 3 minutes, until fragrant. Add about ½ teaspoon salt and the curry powder and stir to toast for 1 minute. Throw in the lentils, tomatoes, water, and a big pinch of salt. Raise the heat to high and bring the soup to a boil. Lower the heat back down to a simmer and cook, uncovered, until the soup is thickened and the lentils are soft, about 35 minutes. Add the coconut milk and juice of half the lime and cook another 5 to 10 minutes. If the soup gets thick, add some more water. You can also taste for salt as you go and add more as needed – the soup will need a decent amount.
When the lentils are done, squeeze in the second half of the lime juice. Ladle into bowls to serve and garnish with the yogurt and the cilantro leaves.
Store leftovers in the fridge for a couple days. The soup will thicken as it cools, so add water by the 1/4 cup when you reheat.