Active Time: 20 minutes
Total Time: 35 minutes • Serves: 4 

1/2 pound fresh parsnips, cut into 1/2-inch pieces (about 2 cups)
1 large beet (about 1/2 pound), peeled and cut into 1/2-inch pieces (about 2 cups)
2 tablespoons Pompeian extra virgin olive oil, divided
1/2 teaspoon salt, divided
2 tablespoons pine nuts
2 large oranges
1 container (6 ounces) Schnucks strawberry yogurt
3 cups fresh cut chopped kale greens
1/4 cup crumbled feta cheese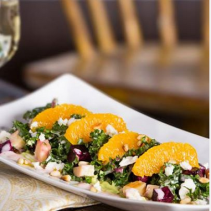 1. Preheat oven to 325°F. Line rimmed baking pan with aluminum foil. Transfer parsnips and beet in single layer on opposite sides of prepared pan. Drizzle parsnips and beet with 1 tablespoon oil and sprinkle with 1/4 teaspoon salt; stir each vegetable to coat. Roast vegetables 20 to 25 minutes or just until tender, stirring once halfway through cooking; cool completely in pan on wire rack.
2. Meanwhile, in nonstick 8-inch skillet, toast pine nuts over medium-low heat 2 to 3 minutes or until lightly browned and fragrant, stirring frequently; transfer to plate to cool.
3. To segment oranges, trim off top and bottom ends to make 2 flat surfaces. Place each orange, cut side down, on cutting board. With paring knife, slice down the sides following the natural curve of the fruit to completely remove peel and white pith. Holding each orange over small bowl, cut on either side of the membranes to release each segment.
4. In large bowl, with whisk, blend yogurt, and remaining 1 tablespoon oil and ¼ teaspoon salt until well blended. Add kale, parsnips and beet; toss to combine. Divide mixture over 4 salad plates; evenly top with orange segments and sprinkle with cheese and pine nuts.
Each serving: about 289 calories, 12 g total fat (3 g saturated), 10 mg cholesterol, 487 mg sodium, 41 g carbohydrate, 8 g fiber, 22 g sugars, 7 g protein