Homemade Hummus is inexpensive and delicious!
Making your own homemade hummus is easy, healthy, and wonderful! The Cooks Next Door share this great recipe. You can easily change it up by adding roasted red pepper, fresh cilantro, or jalapeño for delicious flavor.
Hummus not only makes a fabulous snack served with vegetables, pita, or chips, but it also makes a fantastic sandwich or wrap. Spread your bread or wrap with hummus and top with vegetables, cheese, or whatever else you like. This can also be served as a simple appetizer with pita and a side of Mediterranean olives. As a bonus, it is vegan, vegetarian, and gluten-free.
The kid-friendly recipe will keep up to 10 days in your refrigerator, so double or even triple it for healthy eating. Enjoy!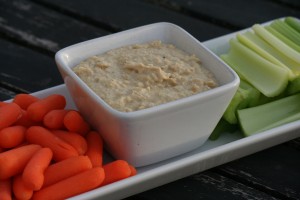 CLASSIC HUMMUS
1 clove garlic, roughly chopped
1 (15 oz.) can garbanzo beans, half the liquid reserved
3 Tb. lemon juice
2 Tb. tahini
1 clove garlic, chopped
1 tsp. salt
black pepper
2 Tb. olive oil
parsely, chopped (opt.)
In a blender or food processor, pour garbanzo beans in with chopped garlic and blend or pulse together. Add lemon juice, tahini, chopped garlic and salt in blender. Blend until creamy and well mixed.
Transfer the mixture to a serving bowl or storage container. To serve, sprinkle with pepper and parsley, and drizzle olive oil over the top.
So easy, so healthy, and so delicious!