Everyone needs shortcuts in the kitchen!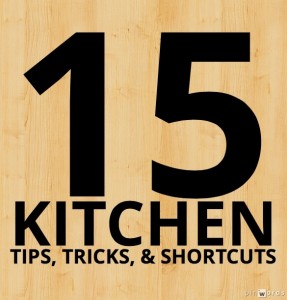 15 Kitchen Shortcuts to make cooking simpler, to maximize your ingredients, and to save time:
1) Put a slice of bread in  your brown sugar to keep it soft.
2) Freeze your leftover wine in ice cube trays to use in sauces or soups.
3) Microwave your citrus fruits before juicing for optimal juice yield (just 15 seconds).
4) Rub your hands on stainless steel if they smell like garlic.
5) Freeze fresh herbs in your ice cube trays with some water and then just add the cubes to your soup, stocks, or sauces for great flavor.
6) Add your leftover coffee in place of water to your brownie batter for amazing taste.
7) Add a scraped vanilla bean pod to your sugar for delicious vanilla sugar.
8) Place your block of cheese in the freezer for 20-30 minutes before shredding – it will be much easier to shred.
9) Use a brown paper sack to ripen pears, avocados, plums or other fruits – place them in it and seal closed.
10) Don't have buttermilk? Add a splash of vinegar to your milk to sour it and use that as a substitute.
11) Save your rotisserie chicken carcass and put in a pot of water with celery, carrots, and onions to make homemade chicken stock.
12) Make a master mix (like this one) for quickly assembling pancakes.
13) Freeze peanut butter and jelly sandwiches wrapped in wax paper for packing quick lunches.
14) Invest in good knives – it makes cooking and prepping much easier.
15) Menu plan – it helps control budget and sanity.
Design Mom also has some awesome cooking shortcuts for saving time and for great tasting food. Check them out!