Its the tomato season and my small tomato garden is filled with tomatoes.  With all the main ingredients readily found in my kitchen I felt like today is an ideal day for a tomato soup.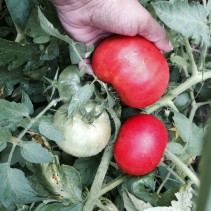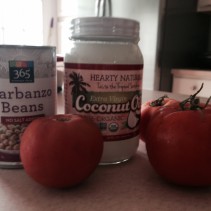 Ingredients
1 tablespoon  coconut oil (of course I use Hearty Naturals coconut oil :))
1 small yellow onion (or half of a large one), chopped
2 big garlic cloves, no need to chop
1 teaspoon sweet or smoked paprika (or combo of both)
salt, pepper
splash of balsamic or sherry vinegar (1 tablespoon or so)
1 14-oz. can of diced tomatoes, with their juice ( I used the fresh picked garden tomatoes,nothing gets any better than that)
a few pinches of sugar (optional)
fresh thyme – leaves from 2-3 sprigs, & extra for garnish
1 cup cooked chickpeas (rinsed, drained), plus extra to add at the end
1 cup coconut milk, full fat or light
1.5 cups water
optional (for a richer soup): 1/4 cup parmesan cheese or vegan nutritional yeast
red chile flakes & a drizzle of olive oil for garnish
Instructions
Heat coconut oil in a medium pot. Add the onion, garlic a few pinches of salt and pepper, and cook until the onion is translucent. Add the paprika(s) and cook until fragrant (30 seconds or so). Add a good splash of balsamic vinegar and stir. Add the tomatoes, sugar and thyme leaves. Stir, then add the chickpeas, coconut milk and water. Cover and gently simmer for 20-30 minutes. Uncover and let cool slightly.
Transfer to a blender and puree. Taste and adjust seasonings. Add the cheese (only if you want to), and additional water to thin the soup, if necessary.
Add additional whole chickpeas and top bowls with extra thyme leaves, red chile flakes and a drizzle of olive oil.
Serve with grilled cheese sandwiches for dunking, and extra balsamic on the side.
Notes:
This soup tastes better the longer it sits (especially the next day)… so this would be a great one to make in advance.
If you don't like coconut, use heavy cream in place of the coconut milk.
If you don't have fresh thyme you can add dried thyme (or oregano) leaves, just add less (1/2 teaspoon or so).
inspired by LoveandLemons.com