How to Make Vegan Nachos
Hope you had a great 4th of July!
Sometimes you just need a snack or a quick meal and these vegan nachos are the perfect solution. They give the crunch craved without the fat of traditional nachos, plus they are delicious!
VEGAN NACHOS

2 Cans of Great Northern Beans
Red Bell Pepper
2 Limes
1 Bunch of Cilantro
1 Box of Silken Tofu
2 Tbsps. of Jamaican Jerk rub
Tortilla Chips
Rinse and drain beans. Let sit while putting nacho chips out on baking stone. In a bowl, mix the beans with 1 tbsp. of jerk rub. Zest one lime and  juice over beans. Stir to coat beans in the juice, seasoning and zest. Then spread beans over chips evenly.  Cook at 400 degrees for 10 minutes.
While the beans and chips are cooking, zest the remaining lime and juice in a blender or food processor.  Drain the tofu and put in the blender or food processor with the lime juice and zest. Add the remaining tbsp. of seasoning. Blend until smooth.
Dice red bell pepper and by this time the nachos should be turning a hint of golden brown.  Pull the nachos out of the oven and top with red peppers.  Chop cilantro and spread over nachos.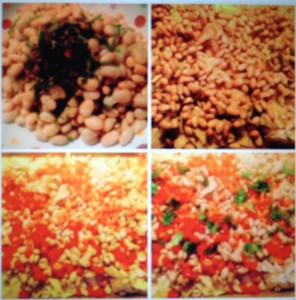 The last step is to dollop the tofu mixture over the top.
These nachos are sure to please even the pickiest of eaters. Whether you are vegan, vegetarian, or an eater of all, you must try this recipe!