We're all busy, but we know the importance of eating healthy, real food, so even if it take a little longer, most of the time (we're not perfect!) we go out of our way to fix wholesome meals.
This is a super fast side dish that only take a few minutes to prepare and is a great way to get a few veggies into one meal. Feel free to add in whatever veggies you have on hand. The squash and zucchini combination reminds me of something my mom used to make, so that's why I love it, but as with all of my recipes, I encourage you to make them your own.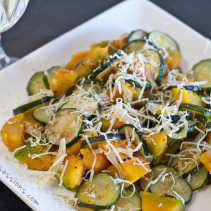 Serves: 4
Ingredients
2 organic zucchini, washed and sliced
2 organic yellow summer squash (or squash of your choosing), washed and sliced
1 sweet onion, thinly sliced
1 tbsp. crushed garlic
salt and pepper to taste
Parmesan cheese (optional – omit if dairy free or autoimmune)
2 tbsp. coconut oil
coconut oil
Instructions
In a large skillet, warm your coconut oil over medium heat.
Add the squash, zucchini, onion, and garlic, and season with salt and pepper.
Cover and let cook, stirring occasionally, about 8-10 minutes or until tender, but not mushy.
Remove the lid and turn up the heat a little to brown the veggies slightly.
Serve with fresh grated Parmesan cheese.
This side dish also reheats very well and tastes wonderful added into your morning scrambled eggs or omelette!
Thanks Jessica Espinoza @ Delicious Obsessions to sharing this wonderful recipe.